Our blogs to inform you about babywearing!

Click to the blog you want to read now:
Taking care of your baby sling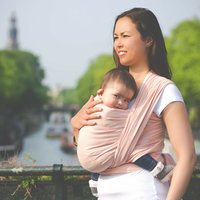 TIPPS AND ADVICES TO MAINTAIN YOUR BABY SLING In this blog we will explain how to maintain your baby sling, to keep it nice. Baby sling - Cotton The Pure Baby Love baby slings are made of high-quality 100% cotton. The baby slings are cuddly soft and extremely comfortable for your child. Washing instructions Before you start using the baby sling, you should wash it first. We always advise to wash it as cold as possible. Although it can be washed on 40 degrees, colder is recommended to preserve your baby sling. Don't use too much detergent. Too much detergent affects the fabric and makes it stiffer. Baby sling - Drying The Pure Baby Love baby sling can be put in the drier. Always pay attention to temperature. Hot drying causes shrinking and...