Using a Ring Sling
Ring sling instruction
This instruction will explain how to use the ring sling.
1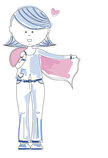 First of all, decide on which hip you wish to carry hour baby. Put the fabric on the opposite shoulder.
For this instruction, we assume you will carry your baby on your left hip (s. picture). Do you want to carry our baby your right hip? No problem!

Place the rings high on your shoulder. Put the fabric perfectly around your shoulder and straight down at your back. Pull the fabric aside at the
upper rail and stretch your arm. Pull the fabric together with your right hand, from
your left hip to your left hand that holds the upper rail. Hold the fabric with your
right hand.
2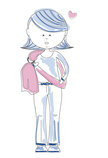 Then put your left hand on the fabric, while putting your thumb on your hip bone.
It determines where you will carry your baby. With your right hand, you pull the fabric
towards the rings. It determines the place where the fabric should be pulled
through the rings.
3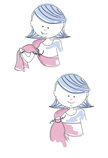 Then pull the fabric through both rings. Try to pull the fabric neatly through the rings.
Then fold the fabric back and pull it through the bottom ring. Try to do
this neatly too, so no fabric remains. It will simplify tightening.
4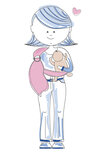 If necessary, turn the wrap to the right position. Put the rings at the right height, high on your collarbone, the fabric nicely around your shoulder. Then raise your baby and hold your baby
against you. Move your right hand under the fabric and guide the legs of your
baby through the fabric of the ring sling. Now it is time to choose the right position
of your baby and check if the rings are still positioned high on you shoulder before
you continue.
5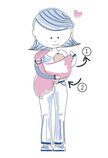 Pull the wrap up over your child's back until it reaches the baby's neck. Fold the
excess of the horizontal wrap under baby's bum, between you and your baby to
create a seat. The fabric supports your baby from the knee pit to knee pit.
6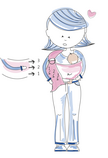 Then you will start tightening the ring sling. You have to support your baby with your
left arm. The loose fabric goes towards the rings. Then you will start
tightening the fabric with your right hand. Rail by rail. Start tightening
the outer rail first. This is the rail under your baby's bum.
Then you continue to the middle and finally to the top rail.
Your baby is in the right position when he / she is close and firmly
against you and in a straight position (head in straight line above
the bum).
7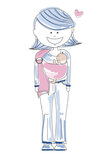 For extra comfort and head support you can make a roll
in the top rail from a small muslin. This provides a perfect
support for small babies.

Carrying your baby must be safe and comfortable for both you and the baby
On our website you will find all safety instructions.