Premature birth
Specifieke producten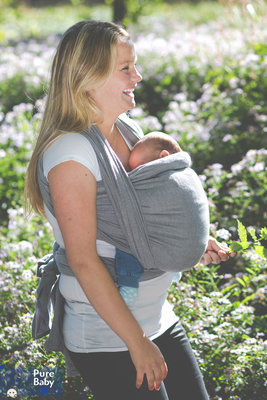 Baby sling Dark Grey premature
We have developed a baby sling especially for premature babies. It is a wonderful follow-up on "kangarooing" in the hospital.

Woven baby sling
This woven baby sling for premature babies is narrower than usual, perfect for very small babies. A woven baby sling offers the best support. This Pure Baby Love Dark Grey baby sling is made of 100% cotton (225 gr/m²).
Unique
Our baby sling has an unique feature: it is ultra-soft from the beginning, extremely comfortable for vulnerable premature babies. This baby sling fits from size 38 up to 56/62. From that moment on we advise you to use a common baby sling.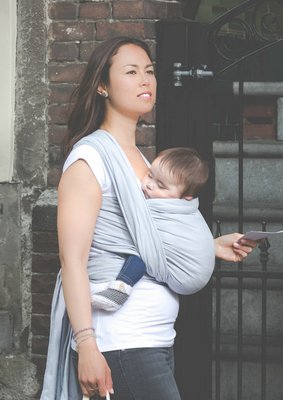 Baby sling Icy Blue
It feels great to carry your baby in our baby sling. This Pure Baby Blue baby sling is made of 100% cotton (225 gr/m²). When you buy one, it immediately feels ultra-soft. Furthermore, our baby slings are extremely comfortable for both parent and baby and are user-friendly. The high quality fabric and beautiful colours make it a real fashion accessory for trendy parents. In short, the Pure Baby Love baby sling is a real must-have for you and your little one.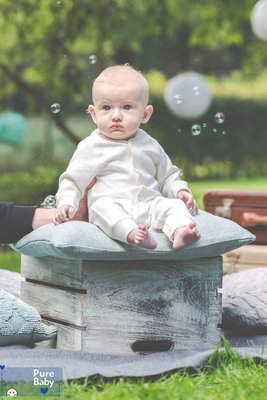 Organic Baby Jumpsuit Pure Baby Love
We have designed the baby jumpsuit especially for you. You can open it from top to bottom. You don't have to pull it over your baby's head, so it really simplifies changing diapers as you don't have to undress your baby.
Premature
The baby jumpsuit is available from size 44 and is also suitable for premature babies in the incubator, thanks to the push-up buttons from top to bottom. In addition, size 44 is also suitable for dysmature babies. You can use the soft jumpsuit in a Pure Baby Love baby wrap or in the play-pen.