Reviews Pure Baby Love baby wrap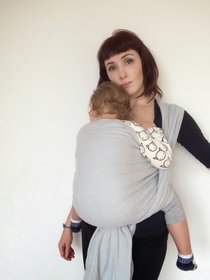 Keep calm and carry them
Chelsea of Keep calm and carry them is a real 'babywearing-guru'. She has used a lot of wraps and written a lot of reviews. She also wrote a lovely review about our wrap. Click on the link to read this review.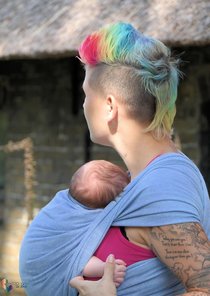 Wrap you in love had posted some lovely pictures with the Pure Baby Love wrap. Please take a look on the website for more babywearing info and tutorials.





Sling Sally
Sally of Sling Sally has tested our beautiful sling and wrote a lovely review. You can read this review via this link.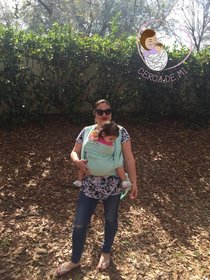 Michelle (Cerca de mi, USA)

I had the honor of hosting this beautiful mint wrap and I have to just say: wow!
So soft right from the start. I immediately thought this is the best wrap/ blanket that I have ever tried. The color is soft and beautiful. The cotton is just the softest I have ever felt in a wrap.
I have a two year old which does not let me wrap her every day but when she is the mood we can wear for hours and hours. This wrap was up for the challenge one afternoon at the mall.
We started with a quick Ruck TT in the parking lot and it was super easy to get a seat and adjust. The knot tied easily and I knew it would not be budging.
After a little while she wanted out. Then we I did a FWCC since I knew nap time was near. Again it was so easy to put wrap into place. The back cross was super easy to adjust and get out any slack. Once I put her in and got my knot tied you can feel how nicely is molds to your babies body. I love this quality in a wrap. Amazing moldability!
I would highly recommend this wrap for new families wanting a wrap for a squish and even for families with more experience like mine. It is a very versatile wrap. We loved it!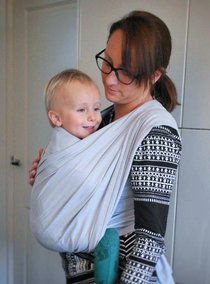 Bojanne, Olivier's mum;
The wrap was immediately soft when I took it from the box. The fabric feels like velvet, lovely! I compare it with a wrap with bamboo, so soft. The wrap is less smooth than a wrap with bamboo, therefore it makes it more easy to knot. The weave of the fabric is quite neutral, just like the color. The dark yarn is a subtile detail. The label looks very cute. I think the wrap is very beautiful, peaceful and serene. The thickness of the wrap is ideal to wear. I would recommend this wrap for wearing infants up to a weight of about 22 pounds. To me it seems a lovely wrap to carry newborns; the gentle touch and comfortable to tie. Untill I was testing this wrap I had regrets that I had sold my wrap with bamboo. But this wrap is very soft and I would buy it instantly!



Ilse, Laura's mum, babywearing consultant
I have used this babywrap with a lot of pleasure. The color is beautiful, especially for a newborn. Nice and quiet. And the wrap is very very soft! It is quite thin which makes the wrap nice and not to hot. Although the wrap is nicely thin, it knots much better than expected. Normally you have to be very precise to avoid cutting, but this for this wrap it is not necessary at all. I have worn my 21 month old girl and she was having fun being wrapped and it wasn't tough for me at all! After a while it became a little heavier. I would definitely recommend this wrap!


Jonieke, Evi's mum:
First impression: soft!!! Is this a sling or a cuddly soft blanket...?
The weft looks fine and it's a thin baby wrap. Very useable for beginners and advanced users.
The first time wearing the wrap, unwashed: The wrap is very soft and easy to use. I notice that the (double) knot is getting a little bit loose because it is so soft/smooth. The FWCC is also fine to use with a baby over 22 months. I think that this wrap can be used till the age of 18 months. The baby wrap does not cut at all and is very gentle on your shoulders.
After I washed the cloth: Still very soft, but the double knot fits well.
My daughter has approved the wrap with no doubt and slept very well in it.
Yvonne, Zoë's mum
Lovely, soft, cuddly babywrap! Great width, especially with such a tall girl like Zoë. In terms of thickness I think it is a very nice babywrap, not too thick and not too thin. I did not have to be very precise to use it comfortable. A plain wrap like this is easy to combine with your outfit. A really fine babywrap also suitable for a toddler, but certainly for a new born!




Anjo, Veerle's mum
I liked this soft babywrap immediately when it came straigth out of the box. Not rigid at all. This makes the wrap immediately fine and easy to use. The wrap did not cut, it was lovely. I would recommend the babywrap especially for beginners. For now I do not have any downsides. The darker stitching looks nice on the light cloth.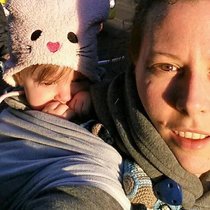 Rosalie, Maurie's mum, babywearing consultant
At the first contact with this Pure Baby Love wrap I thought; wow, what a lovely, soft, cuddly wrap to wear my baby in. It feels sooo comfortable! Also seems very nice to use in the summer; on my skin. It ties fine, stretched diagonally precise enough, and it forgives me my first too loose knot ;-). After 30 minutes cycling my girl is still fine. I still feel good, no pain and I am therefore very pleased with this wrap. The pastel color of this Pure Baby Blue wrap is better up close than from far. I am glad it is a solid color, such as a good basic in your wardrobe; fits anywhere and is suitable for all seasons. This cuddly wraps will come in three pastels. I'm sure that one of them suits your little black dress perfectly :-). It was very special to be able to test it first, of course. At the end of the test the wrap also showed some of it's "sleepy dust", very convenient.



Lotte, Tess' mum
What a lovely wrap! The first impression; what a super soft cuddly babywrap. Perfect, I think super comfortable for the little ones too. Lovely color as well.
Of course I wanted to try it out right away, only Tess did nog agree. A quick knot and it was super. Tess is not very heavy (about 10.5-11 kg ) for her age, but she fitted very well. The softness of the wrap is also very convenient for my shoulders, quickly knotted but no pressure at all.
My conclusion; I want to keep this wrap! Super comfi! Soft, neutral and beautiful colors.





Barbara, Quinn's mum
The color is very beautiful! The width of the babywrap is wider than my other wraps. Comfortable to wear, knots very fine and indeed a true size 6 .
And it is so soft! I can not believe that this wrap is only just a week in use...
Christina (USA)

Initial impressions: When I first removed the wrap from the packaging, I thought to myself "wow, this is incredibly soft. Is it really 100% cotton? There has to be something else in there." Checked the tag, 100% cotton.. I also felt that it was pretty thin. Which definitely worried me since I have a toddler who like to squirm and is not all that light weight anymore. So i decided to put him up in a sloppy front wrap cross carry. Mint rocked it, and if I can wear him in a FWCC, this wrap should be pretty awesome.
Wrapping qualities: Glides easily. Not too much grip, but enough to keep things in place. Moldable, with a teeny amount of stretch.
Wraps similar to: reminds me of another high quality brand in some ways.. The thinness and support. But this was even softer than my budget handwoven. I always would say "my gira is the softest in my stack" but this one, would most definitely take that spot.
Recommendations: gosh, this wrap is awesome. If you're on a budget, this wrap would be great for you. A size 6 is around $95. I believe that newer wrappers would love using a Pure Baby Love wrap. Super soft, easy to manipulate, thin so it doesn't feel too overwhelming with the fabric. We live in hot and humid Charleston, SC. I wore this wrap on multiple occasions for afternoon walks. We were comfortable and the weight of the wrap definitely helped keep us cool. It seems almost breathable. The fabric isn't too dense at all. Experienced wearers may like this as a beater wrap. Great for the trunk or backseat, breaks in super fast, and it seems quite durable.
Summary: I will totally be recommending this brand for newer wrappers. I still can't get over how soft this wrap is straight out of the package! Plus I feel as though newer wrappers are always looking for something less expensive. This is great quality, for low cost! WIN-WIN!!